Projects
Helping Halo to adapt, to keep events Covid-safe
It's safe to say that the world is going through an enormous change right now and once we leave lockdown and the wheels start turning once more, things will never quite be the same again I suspect. But not just because of the virus – and that isn't necessarily a bad thing.
Already in our experience of talking to businesses recently, they have begun to change the way they operate, both internally, and with their customers, and have discovered new practices that are more efficient and allow them to work more effectively. At Atomic, we have embraced this challenge and although we are fortunate that much of our work can be produced remotely, we are also channelling our efforts and expertise to support our clients to weather the storm and develop ways of becoming operational again as quickly as possible once the lockdown has been lifted.
One example of this is our work with Atomic client, Halo Solutions, an organisation specialising in event safety and venue management for large-scale events across the UK. We have worked with Halo Solutions over the last 3 years to develop the multi award winning HALO app, an event safety system that enables event managers and security teams to monitor and respond to incidents in real-time during major sporting events and concerts. The system has been used at some of the world's largest sporting and public events including the 2019 Cricket World Cup and the Notting Hill Carnival.
The event management industry has been hit particularly hard by the Covid-19 outbreak; in response to this, we have been working around the clock with the Halo team over the last 3 weeks on ways to ensure the impact on the industry is limited as much as possible and that, when the lockdown has ended, the industry is able to be operational as quickly as possible.
One such project has been the development of a new V-Covid Health Passport scanning module for the Halo app which enables the system to identify which event attendees have been cleared to access public events under the Health Passport scheme. One of Halo's partners, VCode, is already in talks with organisations such as the Department of Health officials to use their VCode technology as part of the scheme that will help NHS workers and the wider population when lockdown measures are lifted.
They also believe the scheme can be rolled out to British sporting events such as the Premier League – helping them to resume without needing to go behind closed doors. Halo's new Health Passport scanning module is the first of its kind to be able to scan the VCode technology.
https://www.dailymail.co.uk/sport/sportsnews/article-8200541/Premier-League-alerted-new-app-speed-safe-return-fans-football.html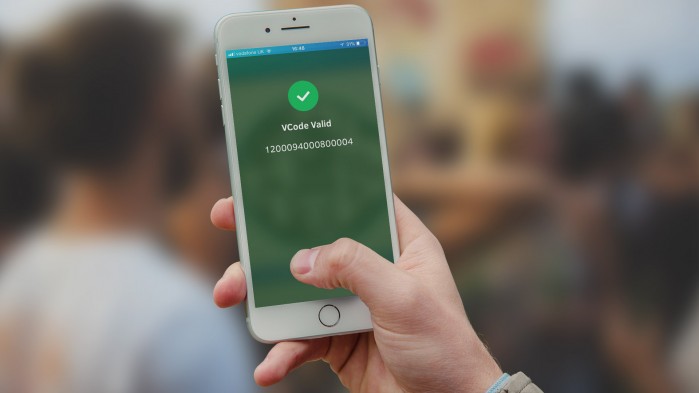 This will support a phased plan to lift the lockdown measures by ensuring all participants at sporting events and concerts present no risk to others also attending the events. The module is quick and simple to use and integrates seamlessly into Halo's reporting dashboard to give event organisers a real-time view of any health risks at their events.
Lloyd Major, CEO & Co-Founder, Halo Solutions Ltd commented;
"Having Atomic as our digital partners has been invaluable during the COVID-19 crisis. We had to move quickly to produce the new functionality and they were able to rise to the challenge, with their iOS and Android development teams working remotely, around the clock, to help get the new feature ready to take to market. It's time like these when a trusted and talented partner counts the most."
This project is just one example of how we're working with clients to not only support them to adapt to the changing landscape, but to also provide the means for an entire industry to get back on its feet following the lockdown.
Atomic has been at the forefront of innovation for over twenty years and we believe every challenge is an opportunity for us to look at things differently, so while many businesses are understandably focusing on surviving, we strongly believe innovation is what will drive the economy through these difficult times and we are committed to helping our clients to do just that – it is what we have always done.
More stories, news and insights…