When it comes to promoting your event, social media should play a pivotal role in your strategy.
Unlike other marketing channels, social media tools provide more freedom to be creative with content providing a greater opportunity for your audience to engage with your brand and increase footfall to your event.
Whether you're promoting a private party, event, or just running an exhibition or stall, having a social media marketing strategy is key.
Many event organisers can spend a lot of time and energy on marketing before the event without little thought on what happens next. But social media event promotion is far from complete once your guests walk through the door.
An effective social media strategy will focus on connecting with your guests before, during and after an event.
But which social media platforms offer the best benefits and how can I introduce them into my event marketing strategy?
In this event marketing guide, we will cover:
What social media event marketing is

How to use social media marketing event marketing

The easiest events to market

Social media vs PCC/SEO
What is social media event marketing?
Social media event marketing refers to the promotional plan of an event using social media as a tool as part of your event marketing strategy. However, this is only a small segment of event marketing as there are many other options available. These include:
Email Marketing

Event-based strategy

Digital Marketing (SEO/PPC)

Billboard and leaflet advertising
How can I use social media event marketing?
There is no denying that social media is a great way to engage with your audience. Research from Buffer found that 36% of updates made on social media by attendees were made during an event, as opposed to before or after, meaning that event organisers can best engage with their audience when the event is actually taking place.
So how do you decide which social media platform to use for your event marketing strategy?
Depending on your audience, one platform may be more relevant to your audience than another. However, this should still not stop you from promoting your event across multiple social media platforms so that you have the best chance of increasing the reach of your audience.
Engaging people before and after an event can be tricky. Therefore, we have put together some top engagement strategies to give your event every chance of success.
Create an events page on Facebook
If you have a Facebook page, this is a great way to promote your event.
By creating a Facebook event, you can include key event details including; date, time, venue location and so on. If you have guest speakers or special announcements, this can be a great place to share this information with your audience.
Your Facebook followers can also interact with your event page by showing their attendance/ interest in the event and can even invite their own personal Facebook friends/ followers.
If there are tickets available to your event, you also have the option to link your Facebook account through to the external ticket agency. Once the integration is set up, your Facebook attendees can purchase tickets from your Facebook event.
Use Instagram stories
Using Instagram stories is a powerful way to drive engagement to your brand. This tool is particularly useful for events, due to its live stream feature which allows brands to post content in real-time.
Instagram stories can be a great way to create excitement leading up to your event, as well as keeping people engaged during and after.
There are many ways you can use Instagram stories to promote and drive traffic to your event. Some of which include:
Add links to your stories so people can buy tickets

Use the link in your Instagram bio

Create an Instagram story ad

Strategically plan your Instagram stories using relevant and engaging content

Make use of the stickers feature

Use Instagram stories take over with special guests, influencers and brands attending the event

Use the live feature to blog content throughout the event

Post teasers
Posting teasers leading up to your event can be a great way to spark excitement with your audience.
You could do this by introducing guest speakers, influencers and special guests that will be attending on the day.
You should consider doing this across all of your social media platforms - Twitter, Instagram, Facebook, Snapchat and LinkedIn to reach all of your audience and achieve the best results. Take a look at the example below for inspiration for your future posts.
Create a hashtag
Creating a branded hashtag can be a great way for your audience to find all of the details regarding your event.
The hashtag should be short and sweet and something that is easy to spell. Remember to keep the hashtag the same across all social channels so that it is consistent across all platforms.
Don't forget to include the hashtag on all marketing collateral for your event including print material, digital and social.
Post user-generated content
If your hashtag has done its job, it should be easy enough to find content that your audience has tagged you in from your event.
Using user-generated content is a great way to make a personal connection with your attendees and increase awareness about your brand.
A great way to generate user-generated content from your event is to create an area where people can take photos and engage with your brand.
A great example of this strategy is from iweigh who created a photo booth at their event where people could take pictures and post them online.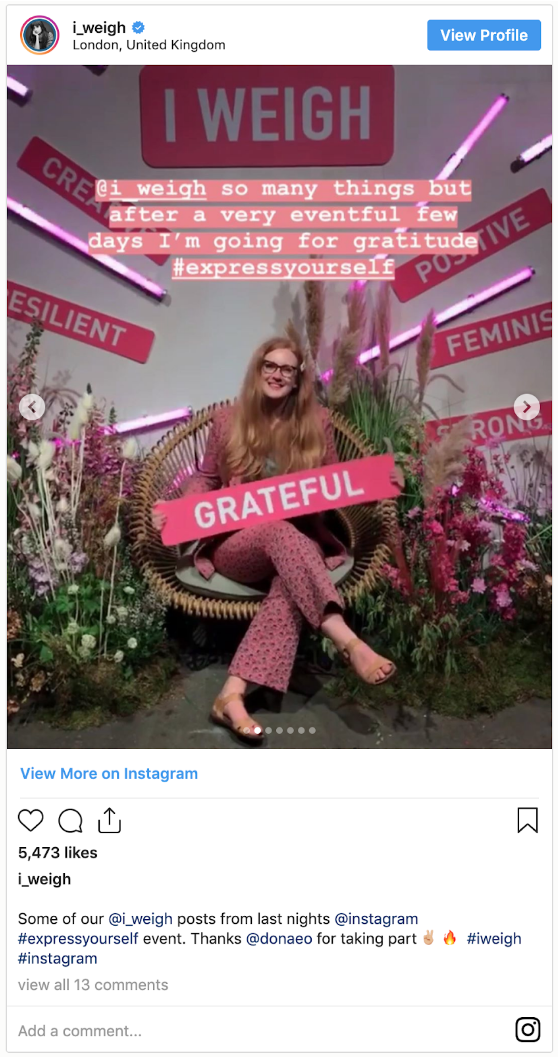 Which are the easiest events to market on social media?
Each event comes with its own set of challenges so finding something which is easy to market is not that simple.
However, by using our range of social media tactics, it can help massively boost your online presence and increase the footfall to your event.
There are various types of events - depending on the nature of your business, some may be more suited than others.
Below is an example of different types of events you can try for your business.
Conferences

Trade shows

Seminars

Internal company meetings and business gatherings

Ceremonies and galas

Product launches

VIP Events

Virtual events
What's best, social media or SEO/PPC for event marketing?
In terms of event marketing, social media is probably the best channel to use to promote your event. This is because you can reach a large audience in a small amount of time which suits event marketing well. You can also target audiences more specifically which allows you to target people who will be the most interested in your event.
Although PPC and SEO are effective digital marketing strategies, they are more suited to long term marketing goals and help build a successful online presence.
Interested in social media marketing?
Here at AtomicMedia, we have worked with many clients to help generate success through their social channels, using paid advertising and social media management.
We have the tools, knowledge and expertise to drive social media success to generate results.